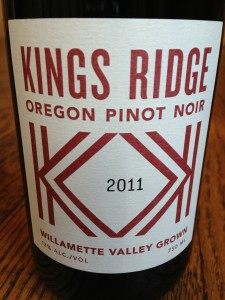 Name of wine: Kings Ridge Oregon Pinot Noir Willamette Valley 2011
(100% Pinot Noir, Willamette Valley AVA, Oregon) Alcohol 13%
Price paid:  $15 Buy Now
Where purchased:  Vino!, San Francisco, California
Tasting Notes and my Comments:  I like this one.  A nice amount of complexity for such a low price point.  Thank you Vino! for making this available for purchase in your shop.
Color:  Medium garnet color.  Medium clear.
Nose:  Berry fruit high notes.
Palate:  Sharp tannins with noticeable acidity.  Fruit forward with strawberry notes confirmed and an earthy bottom.  Medium body.  Medium-long finish.
Food:  Pair with a creamy cheese like brie or camembert.  This would be great with a grilled New York strip steak dinner, baked potato, and sautéed kale.
Winemaker notes:
Kings Ridge is produced by Union Wine Co.  along with two other bottlings and two more labels, Alchemist and Underwood.
The Willamette Valley AVA is located in Oregon.  Some of the best, most accessible pinot noir is being grown and produced here today.
The West Coast of the US is loaded with great pinot noir wines also known as "new world burgundies".  What new world burgundies have you tried?
Peter Trapasso, also known as "Vino Pete" is the founder of VinoPete.com. Subscribe and visit us weekly for our latest wine review. Now writing for Examiner.com