When I heard that Rex Pickett, author of "Sideways", was releasing his first wine this week, I knew that it had to be pinot noir.  Not just any wine, but great pinot.  Quigley Fine Wines, who helped fund the project, is also where to buy your bottles of "Ne Plus Ultra 2011 Pinot Noir Chehalem Mountains, Willamette Valley."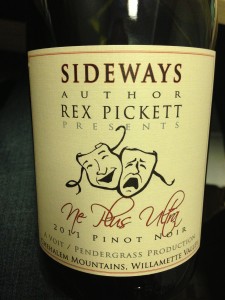 "Ne Plus Ultra" which means, "The highest point, as of excellence or achievement, the ultimate" in Latin, is very appropriate.
"The idea began when Rex was writing the sequel to Sideways called Vertical, based on the same two main characters' wine-fueled journey through Oregon's Willamette Valley.  Rex was overwhelmed by the amazing Pinots coming out of the Valley and wanted to become involved in the production of a small, high end Pinot."
Why is it so special?
From the team of Drew Voit and Darcy Pendergrass, two stellar winemakers in their own right, this is truly a wine to be celebrated.  Drew was winemaker at Shea cellars for 10 years and now at Harper Voit Wines, his own private label.  Pickett fell in love with Willamette Valley pinot and the work of Drew Voit specifically while researching "Vertical", the sequel to "Sideways."  Pendergrass is head winemaker at Amity Vineyards, which is where this wine was bottled as well.
The fruit is sourced from the sustainably farmed Twelve Oaks Estate vineyard, located in the Chehalem Mountains AVA.
Tasting notes from Quigley Fine Wines
"The color is a bright ruby red with flashes of violet.  With such light color I was hardly ready for the big aromas of red cherries, cranberry and brambly spice.  The fruit is juicy and intriguing on the nose with background notes of baking spice and rose petals.  The flavors are still quite young with tart cherry and red berries with a beautiful focused tangy acidity.  The tannins are soft and crisp with the acids playing well with the tart cherry fruit.

This wine defines the elegant, feminine side of Pinot Noir with Burgundian body style yet lacking the damp earth notes usually found in young Burgundy.  While still very young, less than 2 years old, the wine is already giving pleasure with its subtle yet complex flavors and aromas.

Pair this with cedar plank grilled Northwest salmon with a raspberry vinaigrette reduction sauce over a bed of watercress."
How to buy
With total production at fewer than 200 cases, I hear that it is going fast!  To get your bottles contact Mike Blatt, lead wine consultant for Quigley Fine Wines at (619) 795-7043 (http://www.quigleyfinewines.com).
Contact info
Mike Blatt
Lead Wine Consultant
Quigley Fine Wines
619-795-7043
http://www.quigleyfinewines.com
Peter Trapasso, also known as "Vino Pete" is the founder of VinoPete.com. Subscribe and visit us weekly for our latest wine review. Now writing for Examiner.com